Suzanne DeLaurentiis began her award-winning career on stage as an opera singer and actress both on Broadway and off, and her on-screen career started with horror movies, and she has loved the genre ever since. From creating and starring in numerous horror movies to hosting her own show to having her own production company to her philanthropy of Operation Hollywood, Suzanne DeLaurentiis has carved her mark in the entertainment industry.
The talented artist has won numerous awards, including the Founder's Award at the Palm Beach International Film Festival (2003), the Hollywood F.A.M.E. Lifetime Achievement Award for Music in Motion Pictures (2008), and her 10th and Wolf film garnered her the 2006 Aurora Award Winner for Best Picture, among many other achievements. The filmmaker currently hosts the new horror show, Suzanne's Saturday Night Scares, available on Apple TV and Amazon Prime. Carter Lee recently had a chance to speak with Suzanne about her new show, horror movies, and what she has planned in the future.
Carter Lee: Your onscreen career began in horror, right?
Suzanne DeLaurentiis: I worked on my cousin's film as a stunt person, and then my first big role was in a horror film in Canada called Evil Judgement. So, that was my first taste of horror, and I was totally hooked after that.
CL: Yeah, that was 1984 I believe, Evil Judgement.
SD: Yes. I can't believe that. Oh, my god! [Laughing] 1984.
CL: That was a great year in horror; what a year to make a debut! What kept you going with horror? What sucked you into it right away?
SD: I grew up in Jersey, so I was a big fan of Dr. Shock. I don't know if you would know Dr. Shock.
CL: [Excited] Yes, yes. The horror host.
SD: Yes! Huge fan! But my big thing was racing home from school in the '60s to catch an episode of Dark Shadows at three o'clock every day. I lived for that. And I'm so blessed that my parents let me watch it [laughing]. You know, Baranabas, Angelique, and all the kooky, creepy characters that just totally pulled me in, and I was hooked from day one.
CL: That's such a great show. I was not allowed to watch that, so I had to sneak around my parents' back.
SD: [Laughing] Yes! I actually binge-watched it again when I learned I was going to have Lara Parker on my show. The show was just so ahead of its time. It was just really the only true horror soap opera ever.
Creating Suzanne's Saturday Night Scares
CL: I recently watched a couple episodes of your show. That's one of my favorite formats for a show; where a host reveals classic horror movies, providing some fun trivia. It helps instill new life into the films. I am really impressed with your guests. How did the show come about? Was it your idea or were you asked to do it; how did it all unfold?
SD: So, a good friend of mine, Lee Turner, he has his own show that he hosts called After Hours Cinema. He's a really good friend of mine. He's a lawyer. He's an amazing writer, and he's had really good success with his show. You know, Carter, I was starting to think, okay, I'm pushing 60. What are the next five or 10 years of my life going to look like? Even though I still love making movies, it's totally a grind. It's long hours. It's very, very hard.
I was trying to think of: okay, if I had, sort of, a retirement job, what would that be? Something that I really loved, that I had a passion for, but that wasn't killing me on the hours. And I came up with this concept, and I talked to Lee about it, and then he wrote it. And then I went to Dale Fabrigar, who I work with all the time. We came up with the show, and we were blessed enough to shoot under the radar during COVID, so we kept our crews small, and we did our thing.
I couldn't be happier. The show is so fun. I love old, old classic horror. There's so many horror movies to be seen that you haven't seen or really didn't get the attention that they should have. And a lot of the actors that are in them or associated with them, they're a little up there in age, but they're still with us, so I'm getting them as guests on the show. And we had to make it look like Morgan Fairchild and Lara Parker were in a crystal ball and a mirror in the interviews because of COVID. They couldn't come into the studio.
CL: Your show takes me back, how I used to watch Elvira. I just love the feeling of it. And yet, your show, it's fresh and new. You have originality and it feels like a fresh product even though you're reviewing classic horror. I think it is a good product that will catch on.
SD: I hope so. We're in a lot of, I mean, probably 150 Horror Facebook Groups, and we've been getting great responses from everyone. We want to do 100 episodes total.
CL: That's great! Can you give us some of the titles that might be coming up? I know you first covered Sisters of Death. I love that you covered that right off the bat. What are some other ones we can look forward to?
SD: I don't want to give away too much because we want the element of surprise for our audience. But I can tell you the next one we will be doing, and I'm so excited about this, is Nightmare Castle with Barbara Steel.
CL: That will be a good one!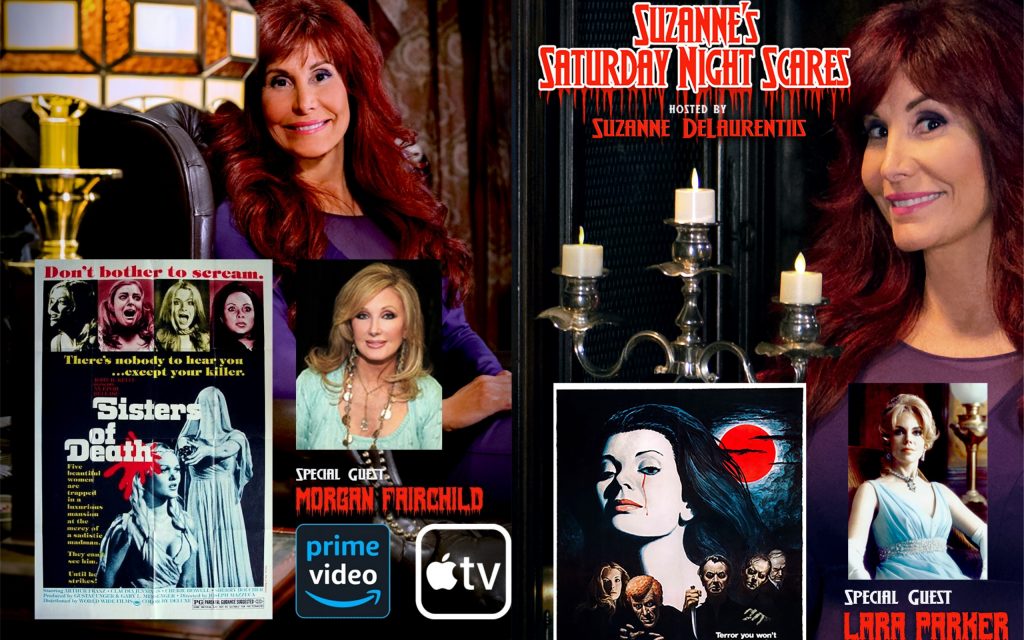 From Frankie Avalon in Nightclubs to Operation Hollywood
CL: You've had a very extensive career in horror movies, and you continue to do horror. You did D-Railed in 2018, which won numerous awards, and you have some films announced. What is it that keeps drawing you back in the genre?
SD: I think it's a combination of a lot of things. You know, I do other things besides horror, too. I did a huge budget mafia-drama called 10th & Wolf 15 years ago; I've done a couple musicals; I've done comedies, a Christmas movie last year [laughing]. But there's just something about the horror genre. I really like the type of people that work in that genre. We always have great crews and great effects people that I so enjoy working with. And you know, Carter, they're always a hot sell. Horror never gets old. Whether it's super gory or thriller or more campy stuff, it always seems to be a popular genre.
CL: I do love that you cover different genres. I believe you started as an opera singer and had more of a stage background. Is that correct?
SD: Yes. I had an extensive theatre background in the '70s, did stuff off and on Broadway. Ironically enough, my first cousin was Frankie Avalon.
CL: Wow. There you go.
SD: Yeah, his mother and my father were brother and sister. I grew up going to see him all the time, so I was really drawn to the whole performing in nightclubs thing. I had a nightclub act for years on the circuit. I played all the big casinos, and then I did a ton of theatre. And then in the early '90s, I wrote, produced, DP, I did everything on a horror film called Mutant Man, a little campy, fun horror film. And it actually did well, and that was sort of my springboard into opening my own production company and making movies.
CL: That's incredible. When did that gameplan come to you to start making the movies and getting behind the scenes of it and transitioning from stage to film?
SD: You know, it's tough, Carter. As you know, for women, it's a very challenging business to stay in front of the camera. It's very, very hard. It's fiercely competitive, and as you get older, the roles kind of diminish. And I just wanted to have a little more control over my fate. I've always wanted to produce, and I really enjoy wearing that hat. I really like development and putting projects together and seeing them through.
Suzanne DeLaurentiis has taken her skills as an actress and filmmaker and paid it forward. For nearly two decades, the talented artist has helped wounded veterans build a career in filmmaking through her organization, Operation Hollywood, which garnered a Commendation Medal from the United States Military in 2010.
SD: One of the things that's really been rewarding for me with my company, Carter, is I have an organization called Operation Hollywood, and we teach wounded veterans to work on movie sets. I've had that program for about 20 years now. I've been so blessed that this business has allowed me to give back in that way.
CL: What gave you that idea, specifically, to help wounded veterans get in the industry?
SD: I grew up in a small town called Mount Holly, which was about 10 miles from Fort Dix Army Air Force Base [currently known as Joint Base McGuire-Dix-Lakehurst, located in New Jersey]. In the '70s, I got very active in the USO toward the end of Vietnam, and it was devastating. I don't know how old you are, but the Vietnam War was pretty shocking at that time. And it was when I was in school, and knowing people who had lost brothers and fathers, and I was trying to figure out what I could do to give back.
The movies that we have, most of our crews are veterans, and a lot of the crew members on Suzanne's Saturday Night Scares are veterans, and they are just amazing because the movie business and film sets are very much like the military. They're structured in a similar way, so it's a really great fit. And you think, well, I'm just one person, what can I possibly do to make a difference? And that was my contribution. Okay, here's what I'm going to do: I'm going to help wounded veterans get into the entertainment business.
CL: What are you working on currently, aside from your show?
SD: I've got two movies in post-production, two horror movies: one is called It Crawls Beneath and the other is called Reed's Point, [the latter is] kind of our rendition of the Jersey Devil.
CL: Oh, fun! So, what is It Crawls Beneath about?
SD: It's about two guys that are working in their garage and there's an earthquake, and then the ground opens up and creatures come out and torture them in their garage.
CL: That certainly brings a new meaning to man cave.
SD: [Laughing] Yes!
CL: Well, congrats on all of that and on your future success with your show.
SD: Thank you so much, Carter, for having me.
CL: Thank you! I appreciate it.
You can check out Suzanne DeLaurentiis host classic horror movies in her original show, Suzanne's Saturday Night Scares, available on Amazon Prime and Apple TV.